You might wonder why anyone would want to go to a temple riddled with rats. The answer is quite simple: because it's the only one in existence in the whole wide world and so we I was keen on going. It might be a good thing that it's the only one of its kind – I mean how many rat temples does the world need? But there's more to this temple than just letting freeloading rats run around.
Devotees of Karni Mata firmly believe that each person of their faith is reincarnated as a rat rendering them as holy. There are different versions as to why this is but the end result is the same – rats are to be highly revered owing them their very own temple. Pilgrims from all over India make their way to the Shri Karni Mata Temple to pay their respects to the holy rats (kabbas) and to ask for their blessing.
Deshnoke is about 30km from the town of Bikaner (where most travelers stay). The best (read: most interesting) and cheapest way to get there is by taking a local bus for just a few rupees. The temple is a few hundred meters from the road where the bus stops – you can either walk about 5-10 minutes or take a tuk-tuk to get to the temple (which in my opinion isn't worth it).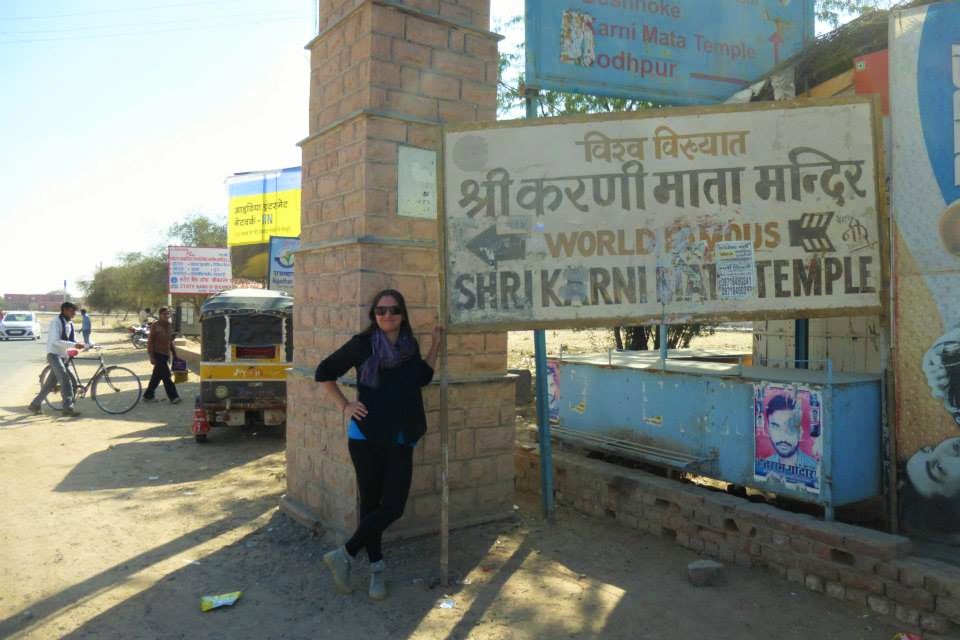 As in all temples, shoes have to be removed but socks are permitted. I chose to go barefoot – I figured I could easily wash rub my feet furiously with sanitizing gel rather than keep my dirty socks on all the way back to the hotel. Needless to say, the temple was soiled with rat (and pigeon) droppings and urine. The smell was gut-wrenching as soon as we entered.
Rats were scurrying everywhere, coming out of every crevice and hole making it really hard to avoid them but, miraculously, I did. Fortunately, not one of them managed to run over my feet (shivers) or nibble at my toes (more shivers). That was probably due to the fact that I tip-toed the whole time I was there and rarely looked up from the ground. Out of respect for the devotees and their holy rats, I had to control myself not to squirm and screech.
The temple is also home to a few white rats said to be much holier than any of the other rats. I noticed parents reaching out their children's hands to touch the white rats as a blessing and to bring good fortune.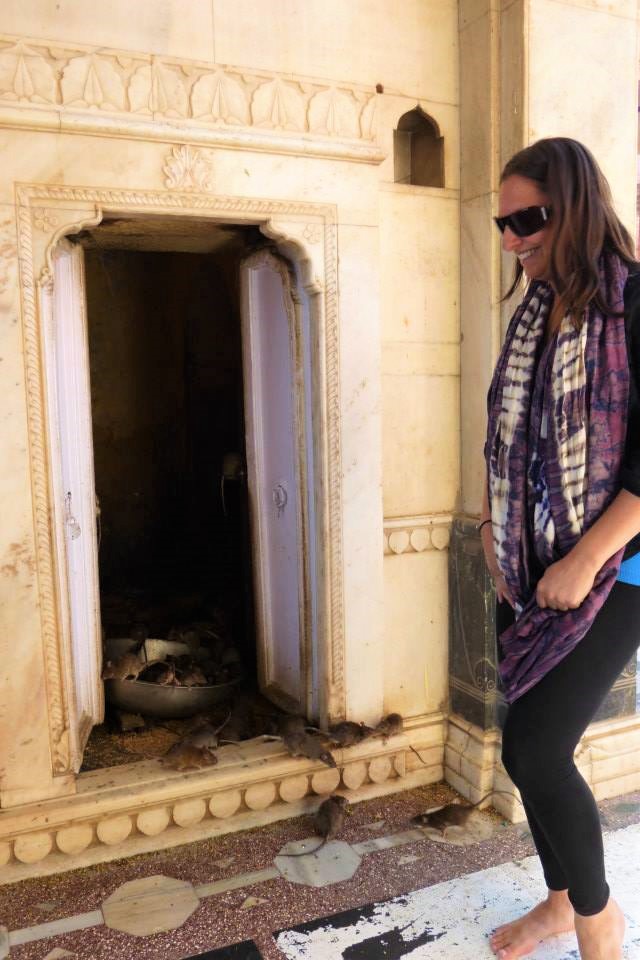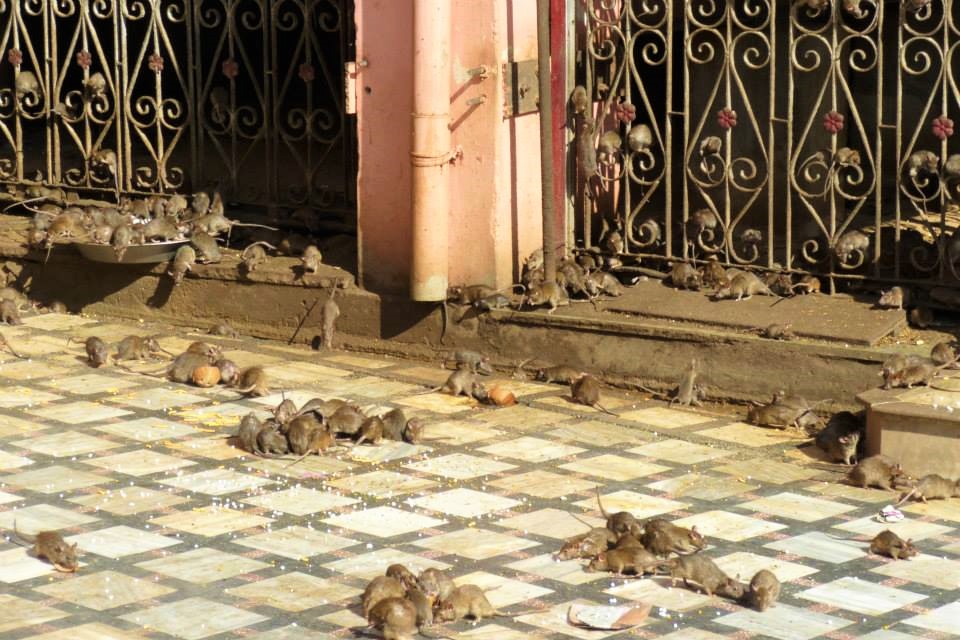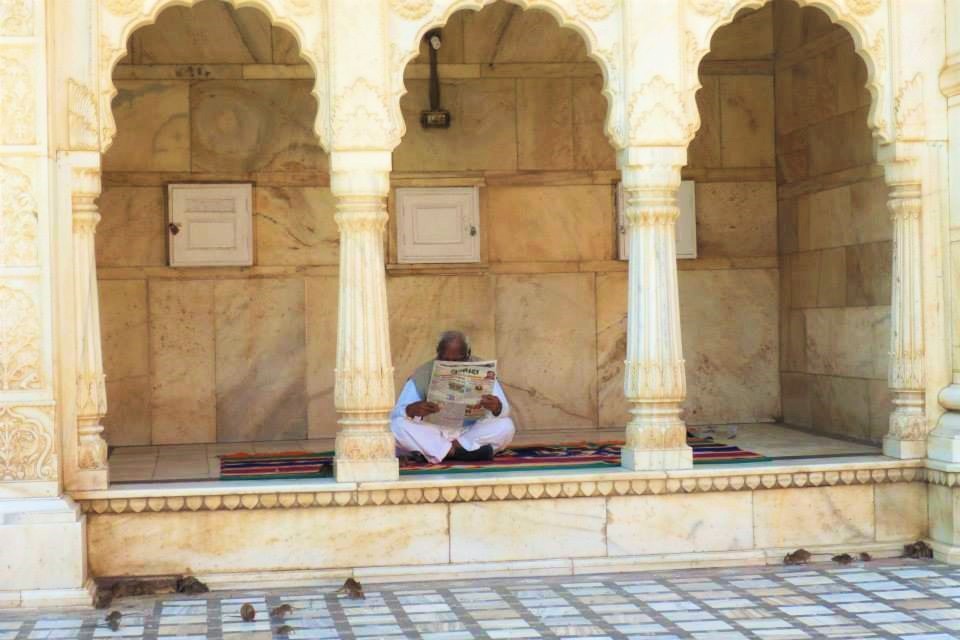 In the temple itself is a shrine where male devotees feed milk and rice in large bowls to the myriad of holy rats. Non-Hindu women are not permitted to enter the small, enclosed area but I was permitted to get close enough to take pictures of this unusual and rare scene.
So that being said (none of which, I admit, sounds very appealing), I'm still happy I got to experience and witness the peculiar religious practices at the Shri Karni Rat Temple. It is, after all, the only one of its kind in the whole wide world.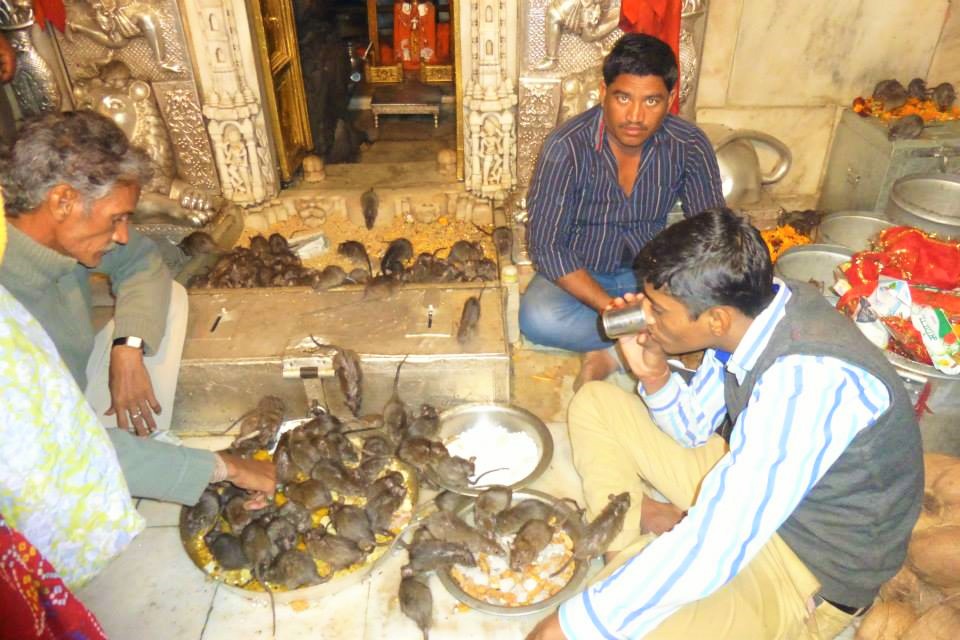 Enjoyed this post? Please pin it!
Have you been to The Rat Temple in Deshnoke? Would you dare go?